A German Town Battered by Potholes Holds Out Its Hat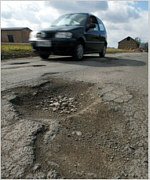 Jan-Peter Kasper/European Pressphoto Agency
Hit any potholes lately? Brace yourself for more. With a bad winter behind us and the economy only beginning to shake off its long recession chill, many state and local governments are struggling to find money to fix record numbers of potholes.
One German town may have a solution. The hamlet of Niederzimmern in the eastern state of Thuringia is looking for sponsors to pay for repairs, Spiegel Online reports. For a $68 donation, the town will patch a pothole and then attach the donor's name to the newly filled hole.
The mayor, Christoph Schmidt-Rose, said the response has been encouraging. The idea, he said, is to make people "feel like they own the pothole."